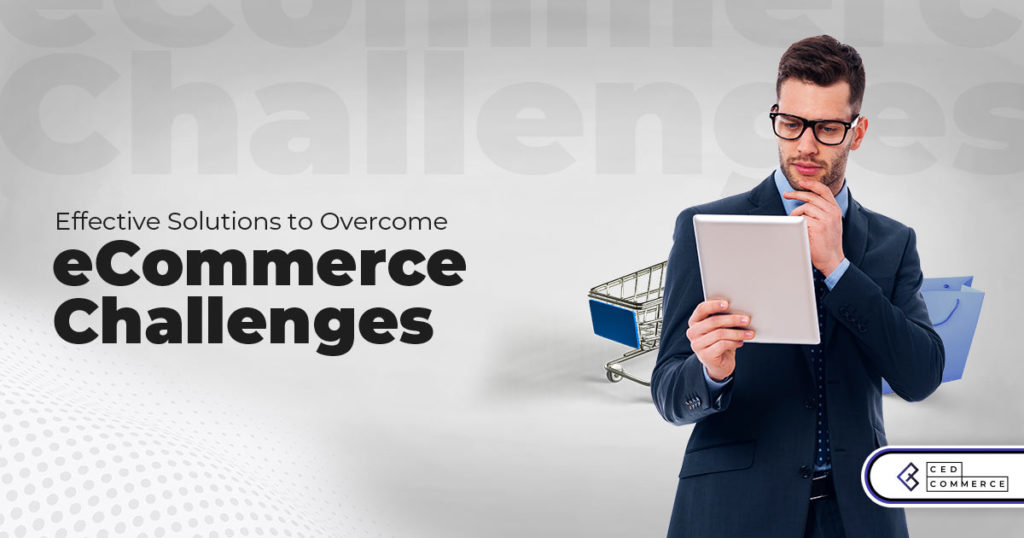 Businesses who engage in e-commerce do so in a market that is extremely crowded with competitors. Because of this, maintaining current clients is more important than getting new ones. According to American Express, happy customers will pay a 17% price premium for superior service. Customer retention is not the simplest problem for e-commerce companies to overcome, as there are many others.
A constant and fulfilling relationship with users throughout time must be worked on, and all available channels of contact must be used to make this relationship a reality, if you want to keep them as customers.
How can your company build a base of devoted clients while preparing for any e-commerce challenge? Let's dig in and learn everything for ourselves.
Problem No. 1: Customer Retention Is Not a Priority for Business
It costs five times less to keep an existing customer than to find a new one. Survey results show that 82% of businesses are aware of this. However, 44% of organisations continue to place more emphasis on customer acquisition than customer retention.
Does your business continue to make acquisition investments? Along with cost optimization, the following are some arguments for you to rethink your approach.
Why Must Customer Retention Be a Priority in E-Commerce Apps?
Nine times more people are likely to buy from repeat consumers.
According to the 2021 Digital Economy Index, retained customers then spend an additional 25% more on holiday shopping.
E-commerce customer retention methods appear to be a more dependable choice in mobile marketing because they are less affected by the current IDFA tracking limitations and the overall trend toward tougher user data privacy protection.
Customer acquisition presents its own difficulties and yields lower profits for businesses.
Solution
Keep in mind that client retention marketing are less expensive than customer acquisition campaigns. All you'll need is a solid platform for customer retention and a marketer with copywriting and strategic abilities.
Second problem: The best deals go to new customers. What about the ones who were retained?
In the best-case situation, those offers are not made to current clients. In the worst case scenario, your old clients continue to see the identical advertising — "20% off for new customers" — without any special discount for them.
People who have already paid you can feel undervalued as a result.
One of the finest customer retention techniques for e-commerce businesses is to continue to focus on customer acquisition while not neglecting existing consumers.
Losing customers due to a lack of coordination between online and offline processes is the third challenge.
Speaking about sync issues in e-commerce retention may raise a number of questions. Are there sufficient supplies on hand? Will the order arrive on schedule? Online stores still require a lot of offline labour, therefore you should pay extra attention to data synchronisation and trusted communications.
Solution
Sync your offers from various communication channels along with your data from online and offline platforms. With the aid of Events and Tags, you can utilise Unomok to submit your external data and mix it with the user data from the in-app and website.
Your customer data sources are out of sync, which is challenge #4.
E-commerce companies interact with their clients through a variety of channels; they get user information from websites, applications, and offline sources. To send current and consistent messaging to your clients across all communication channels, you must synchronise them all.
Here's a poor illustration:
Push notifications with the message "10% off for loyalty programme members" are sent to a set of customers. After then, they see a pop-up saying "10% off for all customers" on your website. You are about to lose a devoted customer right now.
Solution
As Unomok does, ensure that your platform supports omnichannel communication by default. Send communications about the same offer through various channels of communica
Challenge #5: Online shoppers have developed a taste for customization
You should never stop enhancing both the personalization of your messages and your in-app recommendation system. However, achieving this objective is not simple.
Customers are unlikely to notice new technology's workings unless it breaks down or interferes with the seamless, welcoming experience, claims PWC. In other words, you should do all in your power to target and customise your e-commerce messaging. You shouldn't have to explain to your customers why they are getting this specific message. According to BCG, 40% of your consumers will spend more than they intended if customization is successful.
Solution
One of the biggest difficulties in e-commerce is selecting a service you can trust. All the tools required for precise client segmentation and message personalization are provided by Unomok. The advantages of multilingual and dynamic content can be utilised, and you can upload and change your own custom in-app and email templates.
Customers Only Want One-Time Purchases is Challenge #6
This is the time when you need to make your offer simple in addition to being well-targeted and tailored. The best strategy to maintain a customer's interest is to provide some exclusive discounts soon after the initial purchase.
Solution
Following are a few actions you can take:
Cross-sell, or suggest adding more goods to the order.
Present a voucher for the subsequent purchase.
Follow up with your customers later if you see


Challenge #7: Your Products Don't Satisfy Customers
Customers won't make a second purchase if they don't like what they receive. Nevertheless, offering high-quality, distinctive goods might not be enough to win over customers who might not like your app's or website's layout, the absence of payment options, the cost of shipping, or the anticipated delivery date.
Solution
Conduct NPS surveys to get factual information
To make a better suggestion the next time, learn about the preferences of your customers and the specifics of their experiences. You can always suggest a different item to buy if your product line is sufficiently broad and especially if you run a multi-brand online store.
Bet on client satisfaction
It's already a good sign if your customers were simply dissatisfied with the product's quality and the buy or post-purchase experience was flawless. Your clients will be aware going forward that they may trust your online business to fulfil their needs for other brands or products.
Challenge #8: Returning customers abandon their purchases at the register
Recurring customers are typically less likely to abandon their carts, but the experience might not be as good the second time.
Consider the following scenario: delivery was free the first time, but it cost money the second time. Additionally, they are not loyal after the initial purchase, even though rivals can provide better delivery terms. That's it; a customer might decide to shop at your rival's website. Are you able to stop this?
Solution
Ensure a wonderful user experience and app onboarding.
Unbelievable fact: In e-commerce, customer experience generates more than two-thirds of client loyalty, exceeding brand and price taken together. Inform your clients of everything they need to know about your goods and services, including what your e-commerce app is for, how it differs from competing products, and the additional advantages and perks it may offer.
Learn more about creating a user onboarding process that works.
Challenge #9: You Won't Get Much Value From Retaining Customers (You Fear)
Contrary to popular belief, repeat customers actually spend more money, especially around the holidays.
Solution
Segment your high-value clients, and concentrate your communications on them.
When retention efforts are focused on high-value clients rather than typical consumers, the ROI might be significantly higher. High-value consumers can be found by delving into parameters like customer lifetime value, average order value, buy frequency, price sensitivity, and so forth. Additionally, RFM research allows you to identify who your most valuable clients are.
You may recognise your devoted consumers with Unomok in a number of ways:
Extract the necessary consumer data from your preferred third-party analytics programme, upload the contacts as a.csv file to Unomok, and use the segment in your ads.
Create a series of events using the Unomok Customer Journey Builder. For instance, if a customer makes three purchases (which can be tracked using tags), they join the loyalty programme and begin receiving exclusive deals.
Customer Lack of Trust in Your E-Commerce Is Challenge #10 Building brand trust requires patience. It depends on the product's perceived worth, your online store's brand recognition, how satisfied customers are with their purchases, and how easy it is to make subsequent purchases.
You risk scaring away customers if you overburden them with promotions and aggressive offers. To prevent this, introduce yourself to them by posting some informative material and making an effort to engage them with your company.
Disparity between what customers want from a loyalty programme and what you can really offer is challenge #11
The most advantageous components of a loyalty programme may vary depending on the business and its clients, according to a recent study of data from the loyalty market. Today's companies are ignoring the customer-requested loyalty perks, which are frequently the tried-and-true, fundamental benefits, like free shipping.
Solution
Conduct A/B testing to collect first-person (zero-party, right) information on the perks that your customers value the most. To begin with, you might only need to offer one segment of the audience split in your A/B test the oh-so-desired free delivery.
Include the most popular features in your loyalty program's upper tiers: Only provide free things with every second transaction, reserve free shipping for your most loyal consumers, and give immediate discounts for each subsequent order.
Internal Obstacle
Challenge #12: It takes time to launch any customer retention campaign
A campaign typically takes three weeks to develop before it is officially launched. In e-commerce initiatives for client retention, launching three triggered messaging sequences every month is regarded as a respectable performance. Does it make sense to accelerate internal processes?
Avoid sending out excessive spam, and make sure your communication is flowing smoothly.
Solution
A marketing campaign involves many departments, including designers and copywriters. Since communication issues are likely to arise, at the very least, make technological problems as unlikely as possible.
Unomok is a dependable solution that helps your marketing succeed at every step.
It starts off by providing ready-to-use templates that any e-commerce company can customise to its needs.
In addition, Unomok users can benefit from a straightforward yet effective content generator that lets you make emails, in-app notifications, and push notifications directly from the user interface.
Unomok will then make sure that all messages are sent and delivered on time after everything is set up. In contrast to other messaging platforms, Unomok has no cap on the volume of API queries made in a given period of time. As a result, it will send all messages to a million users in a short period of time, as opposed to competitors who could need more than a day to accomplish it.
Selecting the Best Technology Partner for Customer Retention
Even though e-commerce businesses confront numerous obstacles with customer retention, your efforts to keep a customer will pay dividends. Utilize the tips in this post, pick the best platform, and reach new marketing heights to build your own passionate fanbase.
What makes picking the appropriate platform difficult? How is that covered by Unomok?