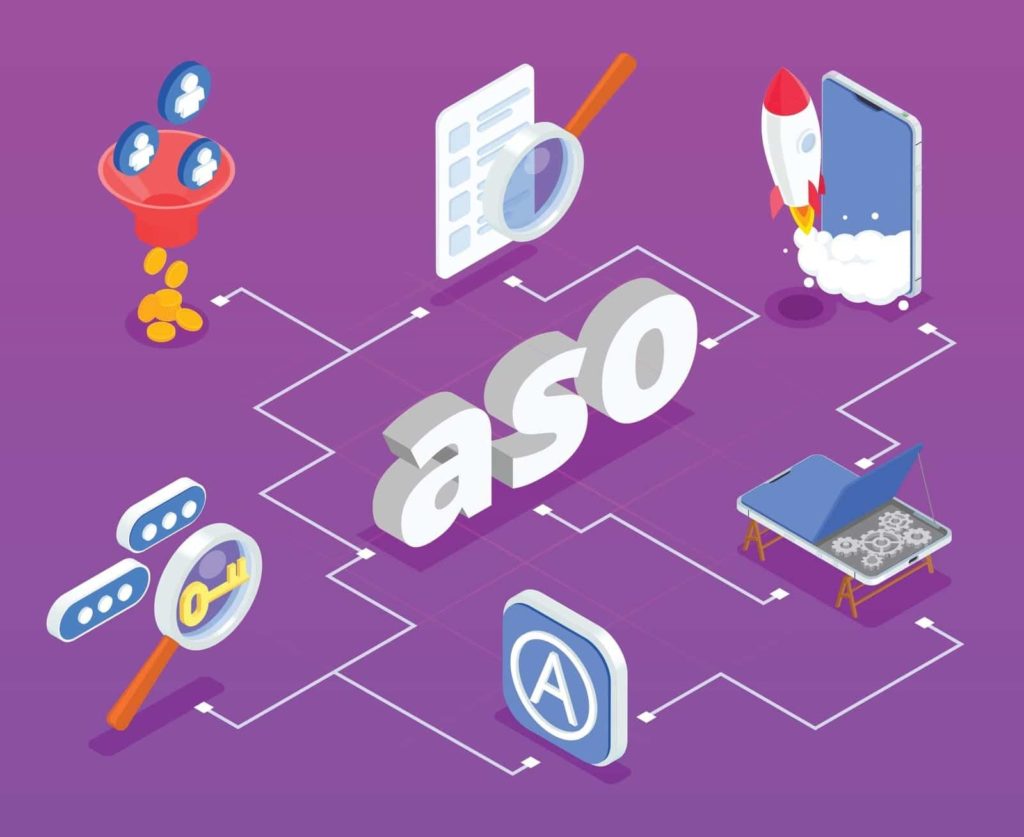 What exactly is ASO and why is it crucial?
You'll be in a better position to draw in new customers and get more instals if you comprehend ASO and the vital part it plays in mobile app growth.
A tool for increasing your app's visibility in app store search results is called "ASO," or "App Store Optimization." You may boost your chances of getting more downloads and higher app conversion rates by making your app more visible.
With millions of apps competing for users' attention and 40% of them being found through search, it's critical to incorporate ASO into your plan to increase traffic to your app and position it above rivals.
You must have a solid grasp of your users in order to translate this into the terms they use to identify apps similar to yours and make the most of ASO. Using this information, you can then modify characteristics like your app's name, title, and description to increase its discoverability. Additionally, it's crucial to keep in mind to pay attention to your app's graphics and user reviews. Your click-through rate will increase the more visually appealing your app is and the more likely consumers are to use it (CTR).
Implementing ASO best practises is the core of your app marketing strategy and will enable you in recruiting high-quality and loyal users, generating sustainable growth, and giving a cost-effective manner of growing app income and conversion rates. ASO is a terrific place to start to get you on the proper track before developing any app store promotional activity.
What is App Store Advertising?
App Store Advertising (ASA) is a method for paying to reach new, prospective consumers and boost installations. Unlike ASO, ASA needs some investment, but it offers a quick and effective technique to draw consumers to your app page.
Understanding your user base is essential to getting the most out of your app store advertising efforts and can guide your decision on where and how to best market your app.
What channels are available then?
ad videos
Videos are a fantastic method to introduce new users to your app. You may showcase your app's main features and demonstrate how it works in video ads to attract consumers. Your video's efficacy and chance for engagement can both be increased by using clear images and subtitles.
The ability to run video advertising on the majority of social media platforms, including Facebook, Twitter, Instagram, and YouTube, gives you a wide range of potential consumers.
advertisements on social media
Numerous options exist on social media to promote your app. The added benefit of having a "download app button" on your ad on platforms like Facebook, Twitter, and Instagram makes it even simpler for users to click through and download your app.
The cost of social media advertising is relatively low, and you can target somewhat different demographics and features on each network. You may choose the ideal channel to promote your app and where to invest your budget for the greatest return by researching each platform and getting to know your user base.
Influencers
People are choosing to download apps on the basis of influencers' recommendations at an increasing rate. Due to the wide variety of options available, you may find the proper balance between affordability and return to secure highly relevant users. The cost of doing so can vary depending on the popularity of each influencer.
nativized ad channels
Native advertisements, which you can employ on Apple and Google platforms, easily integrate into the user's experience on a website, in an app store, or within the app itself. Native advertisements frequently exhibit high levels of interaction and are effective tools for increasing brand recognition. Additionally, these advertising have a variety of adaptable layouts and are typically
Setting up ASO is the first step.
The first step is to start with ASO. Before incorporating ads into your approach, you should get this down pat. Spend time generating eye-catching pictures that best showcase your software and do your research on the most effective keywords to utilise with your audience in mind. With effective ASO, you can continue to attract high-quality users to your app while enhancing brand recognition and customer loyalty.
Second, test your advertising.
You can begin incorporating app store advertising into your strategy to increase your growth and instals once you're satisfied you've mastered ASO. This is your time to diversify and draw your target market to the app. Create a spending plan and stick to it. Test your purchased UA first and foremost. This can help you create your ASA moving ahead, including the best platforms to employ, the language and images that work best, and improving your user journey.
Third step: the analysis phase
Keep analysing your marketing and keep track of what is effective. This will assist you in building a sound strategy and ensuring that your investment is going in the appropriate directions.
Be adaptable in your approach, and pay attention to what your users have to say. This will give you deep insights that will help you stay on course for success and accelerate growth.
Step 4: Develop your plan more.
You will have the knowledge necessary to increase performance and your strategy thanks to your analysis. By researching current market trends and taking advantage of what your competitors are doing successfully, you may build on your own data.
This will let you take advantage of new tools that can increase engagement and reach while keeping your campaign changing with your users.
Curating your campaign as you go will help you stay on the right path and maintain your finger on the pulse.
Step five: Examine your outcomes.
The crucial last phase in your mobile app's growth strategy is to analyse your findings. Utilize this information to stay informed and make the required adjustments to enable you to continue exceeding performance targets. Use this as an opportunity to learn from mistakes and increase your confidence in creating a successful ASO and ASA campaign!
Key conclusions
You need a combined ASO and ASA approach for effective mobile app growth. You'll be more likely to succeed in accomplishing your objectives if you equip yourself with the abilities and information needed to combine these two tools in a data-rich campaign.