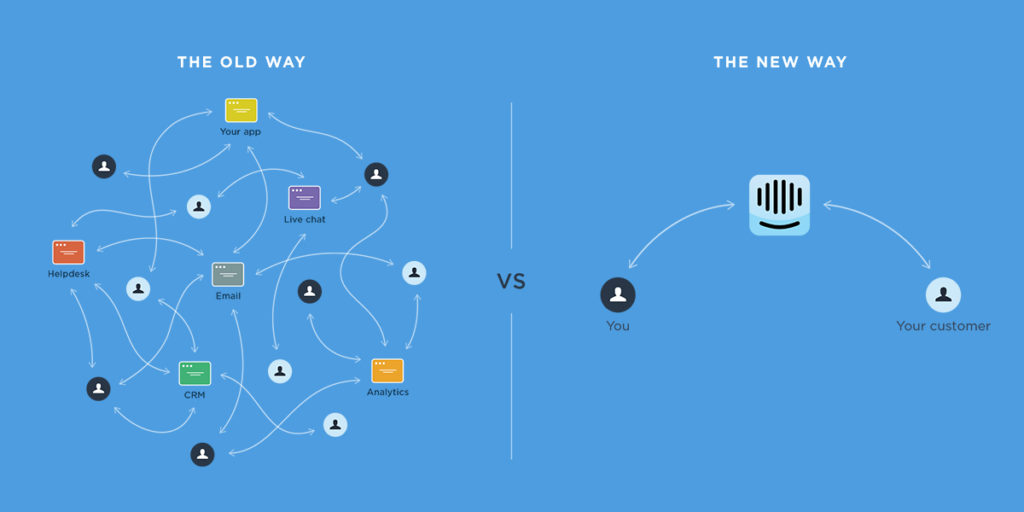 Here's an even crazier fact: The only SaaS in history to grow faster is Slack.
Wow!
Best of all, Intercom has grown — and continues to grow — WITHOUT spending insane amounts of money on advertising or marketing.
This means you can do it for your business, too. Let's get it on!
Traffic Sources Intercom Used to Build a $50M+ Brand
Intercom is a tool founded in California by Eoghan McCabe, Des Traynor, Ciaran Lee, and David Barrett in 2011. The tool's goal is to help companies personalize, simplify, and organize their communication.
Beyond direct traffic, Intercom gets the most traffic from search and referral.
To increase your own direct, search, and referral traffic, here are eight growth marketing ideas you can apply to your business.
[Tip #1] the Biggest Viral Marketing Hack You've Never Seen: "Powered by" plus Dynamic Keyword Insertion
Here's a look at Intercom's top referring sites.
The number one referrer is from the Intercom app itself – most likely coming from the free trial or paying customers logged in to the app.
The other referrers are where it gets more interesting because of Intercom's incredible "powered by" tactic. Let's look at the 2nd referrer as an example.
First, we head to the Atlantic Global Asset Management page. Notice the personalized live chat box in the bottom right corner.
f I'm curious and want to learn more, I can click and I'll be taken to a dedicated landing page Intercom has set up for people who come from the Atlantic Global Asset Management website.
This is what the landing page looks like (pay close attention to the headline):
The team at Intercom uses dynamic keyword insertion in the headline to personalize the landing page experience for visitors based on the referring company.
You'll notice Intercom is using a "company" parameter in their referral URL. Intercom combines the "powered by" tactic with dynamic keyword insertion to increase conversions from their referral traffic.
The takeaway: Identify marketing channels that are already working for you right now and look for ways to growth hack them to a whole new level.