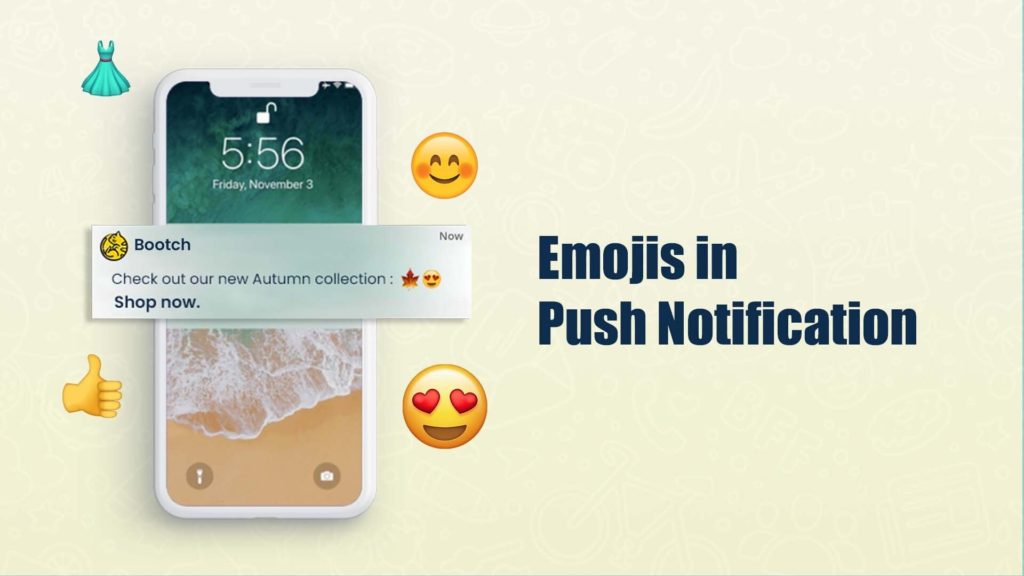 What if I told you that including emojis in your push notification campaigns may increase their click-through rate (CTR) by three times? Emojis raise message open rates by an average of 85%, according to a VentureBeat research. Emojis should be a component of your communication strategy whether you run a mobile app or website. Here are some tips and best practises for using emojis correctly.
Punctuate using emojis
Emojis typically replace punctuation marks. Use emojis in place of periods and exclamation points in short sentences.
Save 40% on all shoes
The fire emoji is a fantastic method to promote a hot deal and exhort customers to buy now. Try using three of the same emojis in a row if you want to stand out.
In place of a word, use an emoji
If the thing is clear and simple to identify, emojis may be used in place of words. Animals, food, clocks, phones, and simple apparel items all work nicely with this. Avoid using emojis when the object is too small or the emoji can be misinterpreted, as this might cause the sentence to become awkward. Emojis can be used to convey additional information when space is at a premium in social media or mobile app notifications.
Obvious Emojis: Confusion-causing Emojis:
Instead of the word "love," you could also use the heart emoji…
Emojis Can Be Used Before or After Sentences
Emojis should always come before or after sentences unless you're changing a word with one.
Emojis should be used at the end of sentences to emphasise what has already been expressed in order to restate the content of the statement.
Your driver has arrived, for instance
Discover if you are a winner
It's time to make dinner.
20% off your subsequent order
fresh remarks on your page
Lasting Advice to Boost CTR and Engagement
Skip it if it doesn't feel right. Emojis should only be used when the context is clear and it seems natural. Avoid pushing it.
Eliminate double meanings. To avoid awkward surprises or unintentional interpretations, check EmojiPedia beforehand.
Make it a prevailing procedure. Evino, a Mok. user, uses the flag emojis of the nations where their wines are from.

Check twice before sending! To see how emojis appear on several platforms, including Android, iOS, MacOS, Windows, and the web browser for Android, use Mok.one Emoji composer and Push Notification Preview Tool.
Test, but take risks. Before sending a push notification to all of your users, you can always do an A/B test.
Obtain Messaging Advice from Leading Brands
Do you require some motivation? See how Shake Shack enhances the richness, meaning, and comedy of its message strategy with emojis and in-app messaging graphics.